• abstract expressionism • arbour heights studio • fleeting moments • living a creative life • local artists • my process • New artwork • Original Abstract Art • What I do • ygk • ygkartist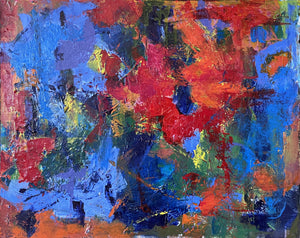 Introducing the Impassioned Project: A New Abstract Painting Series Bold, intense colours that capture the energy of my travels and everyday life come alive in my latest project, the Impassioned series. These dynamic pieces of abstract art are created on gallery-wrapped canvas, which allows the colours and brushstrokes to flow off the edges and create a sense of movement that pulls you in.   My passion for abstract painting stems from the freedom it gives me to express emotions and ideas without being limited by realism. The Impassioned series takes this concept to the next level, with each piece representing...
---
• abstract expressionism • my process • New artwork
Mark making is one thing that I love experimenting with and exploring.  What type of marks are you attracted to ? curvy straight thick thin smeary crisp   Here are some of the marks I used in my mixed media pieces on paper . Click here to see what they look like in their frames .
---
• abstract expressionism • covid19 • livewithpurpose • my process • newbutnotnormal • newnormal • weareallinthistogether • ygk • ygkartist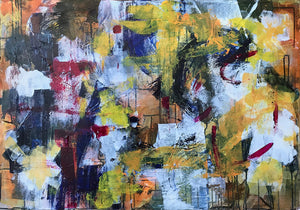 I spend a lot of time looking at my paintings that hang on our home gallery walls. I am always noticing new things about them. Some I like, others I want to change. Yesterday,  I had a huge revelation. I realized that all of my paintings over the past year,  have an overriding theme of seeking balance. Life since Covid has continued on , but different in so many ways; more so for some people than others.  It has definitely not been equal.  It is hard to stay balanced as things continually change. Through my painting, I have been almost...
---
• abstract expressionism • garden • livewithpurpose • my process • shareyourart • SupportLocalArt • ygk • ygkartist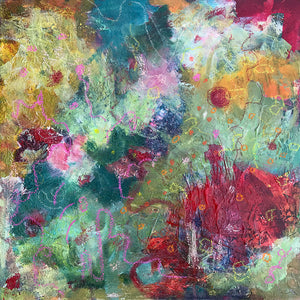 Our backyard garden is a huge influence in my art. My husband does nearly all the gardening. I use the garden's phases throughout the year  as inspiration. Lucky me ! For the last few months, I have been exploring how the shapes ,lines, colours, and feelings of pleasure and joy I experience can be expressed in an abstract way on canvas.   "Morning Dew" is one in the series that I have finished . Which aspects or feelings of summer jump out to you in this mixed media piece ? I would love to hear from you. In the next...