News — living a creative life
• #collaboration • abstract expressionism • arbour heights studio • art studio • living a creative life • local artists • New artwork
My partner Joe and I have two very different styles of creating. He is drawn to an illustrative, whimsical, yet slightly surreal approach.  I love the freedom of abstract shapes, bold colours that play on the stage of the canvas in unplanned strokes, marks, and intense colours We did a collaboration of both our styles, on eight 11x14 inch gallery wrapped canvases. Click here to see our collection. 
---
• abstract expressionism • arbour heights studio • fleeting moments • living a creative life • local artists • my process • New artwork • Original Abstract Art • What I do • ygk • ygkartist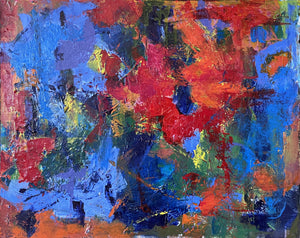 Introducing the Impassioned Project: A New Abstract Painting Series Bold, intense colours that capture the energy of my travels and everyday life come alive in my latest project, the Impassioned series. These dynamic pieces of abstract art are created on gallery-wrapped canvas, which allows the colours and brushstrokes to flow off the edges and create a sense of movement that pulls you in.   My passion for abstract painting stems from the freedom it gives me to express emotions and ideas without being limited by realism. The Impassioned series takes this concept to the next level, with each piece representing...
---
• abstract expressionism • arbour heights studio • living a creative life • Original Abstract Art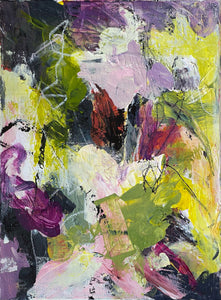 What brings feelings of exuberance to you ? For me, it is the arrival of Spring, with the anticipation of the bold colours of the garden, the warmth from the longer days, and just the joy of being alive   In my new series, Exuberance, I express these feelings in bold colours, shapes and lines, textures and marks   Each contemporary, abstract piece is framed in an elegant floating frame that supports the  mood that I have created. These paintings will be available soon in our shop.  Here is a closeup of one of them  In the meantime, click...
---
• arbour heights studio • art studio • livewithpurpose • living a creative life • local artists • new space • SupportLocalArt • What I do • ygkartist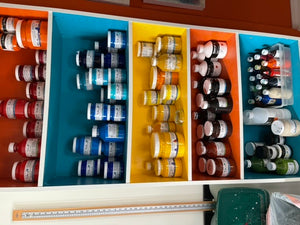 Welcome to a new year and our first blog post of 2022 My hubby and I share studio space. Over the years it has become somewhat crowded and hard to find stuff. So for much of the month of December, we spent time reconfiguring the room to suit our needs Since we both stand up to paint, we got rid of the flat counter surfaces we had and organized and stored our supplies in new carts. Tons of stuff was thrown out or given away. We really thought about what we used a lot and where we wanted it to...